artsearchsantafe@gmail.com
* * * * * * *
William Herbert Dunton
(1878 – 1936)
W. Herbert Dunton worked as a ranch hand in his youth. He studied at Cowles Art School in Boston, Massachusetts and briefly at the Art Students League in 1912, the pupil of Joseph de Camp and E L Blumenschein who told Dunton about Taos. In 1912, Dunton opened his summer studio in Taos. He was invited to join Blumenchein, Sharp, Couse, Phillips, and Berninghaus in the formation of the Taos Society of Artists. Dunton worked as an illustrator in Western life for the popular magazines, sketching the West in the summer and composing his illustrations to order in the winter. He settles permanently in Taos in 1921 to avoid the pressure of illustration deadlines. A picturesque character familiarly known as Buck, he was one of the most popular of the Taos painters. He wrote "Painters of Taos" for American Magazine of Art in 1922, emphasizing the advantages of light, color, and Indian life.
In Taos, Dunton was a successful illustrator for Harper's and Scribner's, his subject matter usually Western or outdoors like that of his good friend Philip R. Goodwin. He also created book jackets for Western classics. In addition to his illustrations, he painted and exhibited widely, keeping his paintings simple and nostalgic: "The West has passed—more's the pity. In another 25 years, the old-time westerner will have gone with the buffalo and the antelope. I'm going to hand down to posterity a bit of the unadulterated real thing.
The work of Herbert "Buck" Dunton (1878-1936), one of the founding members of the Taos Society of Artists in New Mexico, is the subject of Taos Modern: Paintings by Herbert Dunton from the Stark Museum of Art, Orange on view in the Alice Pratt Brown Gallery in the Caroline Wiess Law Building July 17 through January 30, 2005. This is the fourth in a series of exhibitions presented since 2001 in partnership with the Stark Museum of Art in Orange, Texas. The first exhibition of Dunton´s work at the Museum of Fine Arts (Houston) took place in 1925, at the peak of his popularity. Taos Modern presents 10 paintings and 20 oil sketches. (right: W. H. Dunton, American, 1878-1936, McMullin Guide, c. 1934, oil on canvas. The Stark Museum of Art, Orange,Texas)
Like Frederic Remington, who is represented in the Museum of Fine Arts (Houston) collection, Dunton was an academically trained artist who began his career as an illustrator of western scenes. Dunton´s early works reflect a nostalgic ideal of the West-a land of wide-open spaces and heroic cowboys. His fascination with the West was such that he made a number of trips west between 1896 and 1911, working as a cowboy or hunter in the summers. He first visited the village of Taos, New Mexico in 1912, moved there permanently in 1914, and, in 1925, became a founding member of the first artist colony west of the Mississippi.
Dunton´s early career coincided with the enormously popular interest in the cowboy in the first years of the twentieth century, and he was published in magazines such as Collier´s, Cosmopolitan Magazine, and Harper's Monthly. Later, in Taos, Dunton became increasingly preoccupied with issues of color and form in response to modern artistic developments and sensibilities. In contrast to some of his colleagues who were drawn to a romanticized view of the American Indian, Dunton chose as his subjects the thick foliage and animal life of Taos´s outlying areas. In works such as McMullin Guide (c. 1934) and October Gold (c. 1930) Dunton´s dynamic brushwork and painterly palette transform the canvases into lyrical patterns of color and light. Taos Modern provides visitors an opportunity to see his work in the context of the Museum of Fine Arts´s (Houston) small but choice selection of Taos pictures, as well as its large holdings of works by Remington.
**************************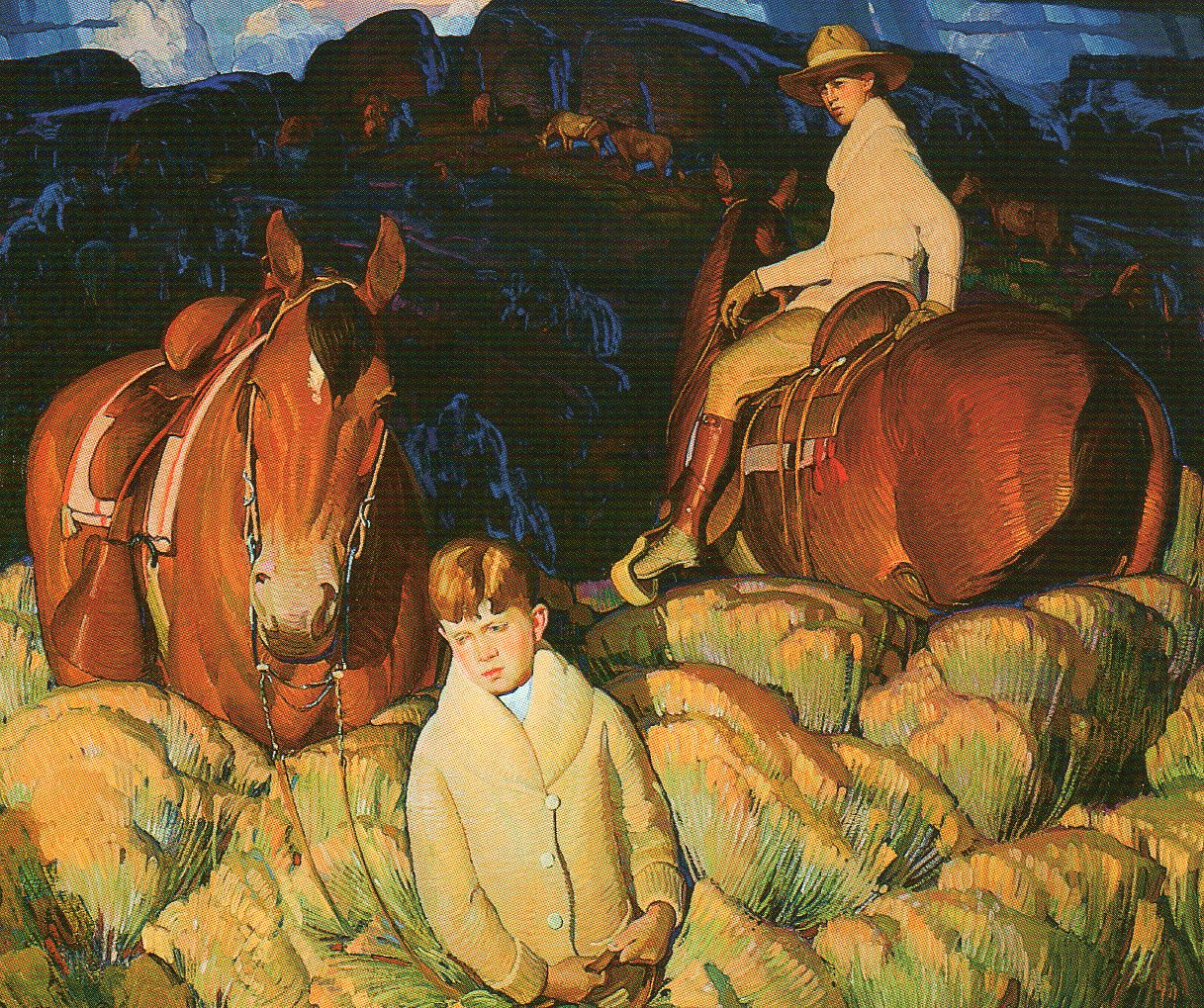 **************************